We often get asked how Alive in Christ came to be, so I thought I'd share a brief history of how the ministry has evolved. Alive in Christ is a direct successor to Transformation Ministries, started at Park Street Church in Boston by Peter Robicheau. Peter was a graduate of Gordon-Conwell Theological Seminary and later was appointed a deacon of Park Street Church. The ministry began as a support group in 1984. Over the next 13 years, Peter and his fellow workers ministered in a self-sacrificing way to more than 100 people seeking transformation in their sexual lives including Protestants, Catholics, and Jews, both men and women.

After Peter died in 1997, Bill Taylor of ReCreation Ministries ran the group meetings until one of the group members, Keith Johnston, re-launched the ministry with the new name "Alive in Christ" based on Romans 6 (the traditional header of which is "Dead to Sin, Alive in Christ"). Keith had a co-leader who had been a member of the original ministry and the background support of Hugh Rutledge, who was a friend and supporter of the original ministry under Peter Robicheau. Bryan, one of our current leaders, joined the ministry leadership in 2000. After Keith's sudden death that same year, Hugh served as acting director and led weekly group meetings. Hugh continues to serve on the board and leadership team and was an integral part of Alive in Christ receiving its 501(c)3 status. I, Brenna Kate Simonds, joined Hugh and Bryan on the Alive in Christ leadership team in April of 2003 and became the director in August of 2004 (18 years ago this month!).

The ministry continued to host a weekly support group for Christians experiencing unwanted same-sex attraction. We slowly began getting invitations to speak at churches. Hugh and I taught a Christian formation class at Park Street Church in 2006. That same year, I shared my testimony at all services there as part of Dr. Gordon Hugenberger's sermon. A few years later, we added another member to our leadership team and began a second support group with the aim of supporting friends & family of those identifying as gay/lesbian while continuing to speak at churches and conferences.

We continued to add to the leadership team while creating our first signature training, "Same-Sex Attraction & the Church: Compassion without Compromise," as well as adding another support group south of Boston. We added two more team members and a fourth support group, an international group for women. We created a second training, "Speaking to Youth about LGBTQ+ Issues," geared toward pastors, youth leaders and parents, as well as a third training for equipping pastors.
Both Transformation Ministries and Alive in Christ were formed to support people seeking God's will in the midst of same-sex attraction or gender dysphoria significantly impacting either their lives or the life of a loved one. This continues today as more people, families, churches, and loved ones seek God's will in the area of sexual and relational brokenness. God's word, love, compassion, and mercy have been and always will be the foundation we stand on and serve from, and Alive in Christ is working to bring this God to those who seek Him in the midst of these struggles and challenges.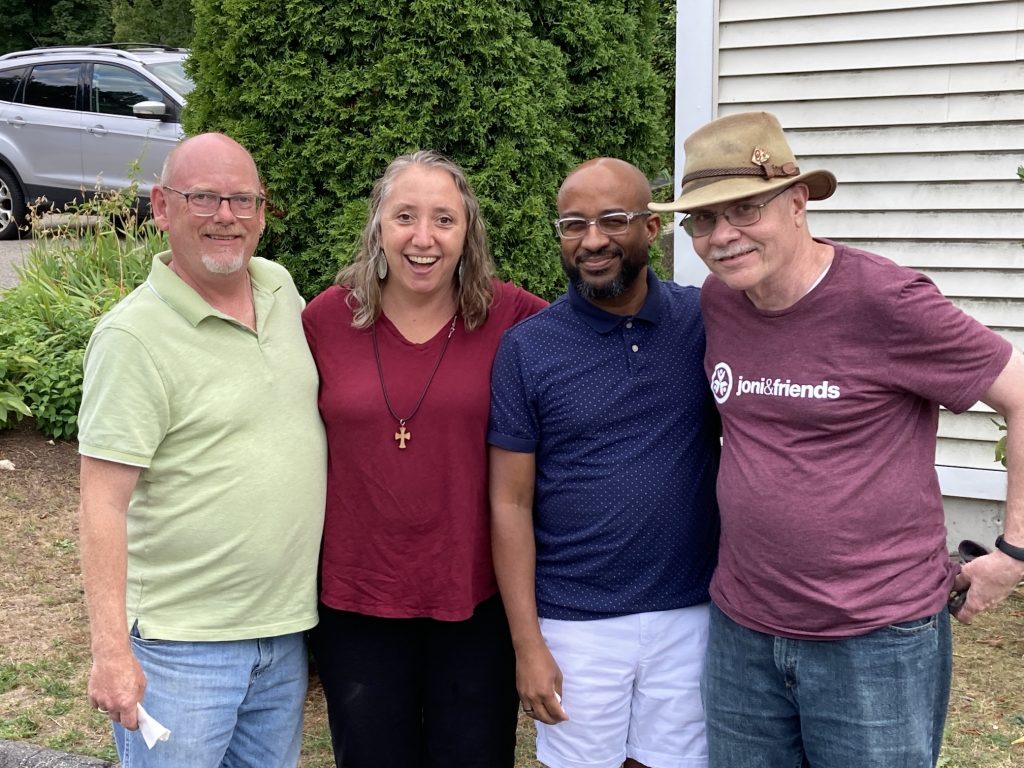 In the same way, count yourselves dead to sin but alive to God in Christ Jesus.

Romans 6:11

The leadership team of Alive in Christ is continually humbled by young people who are able to hear God's voice, feel the conviction of the Holy Spirit, and obey God's Word in the area of their sexuality, despite the many voices around them telling them a different narrative. And we are so grateful for these opportunities to encourage the next generation to follow Jesus with their whole hearts! Here is a testimony from one of those young people:
"Since partnering with Brenna as my mentor, I have experienced a significant amount of support and encouragement in my journey. No two stories are the same, and Brenna has taken the time over this last year to become acquainted with my story, my struggles, and my potential, while consistently pointing me back to Jesus. Through this investment, I am confident in the new skills I have obtained & will continue living out in the fullness of what the Lord has for me."

Through 38 years of continuous ministry, five directors, ten leadership team members, four support groups, plus countless trainings, Sunday school classes and church services, God has been faithful! And we could not be more grateful for His strength to serve, as well as prayers and financial support, carrying us through!