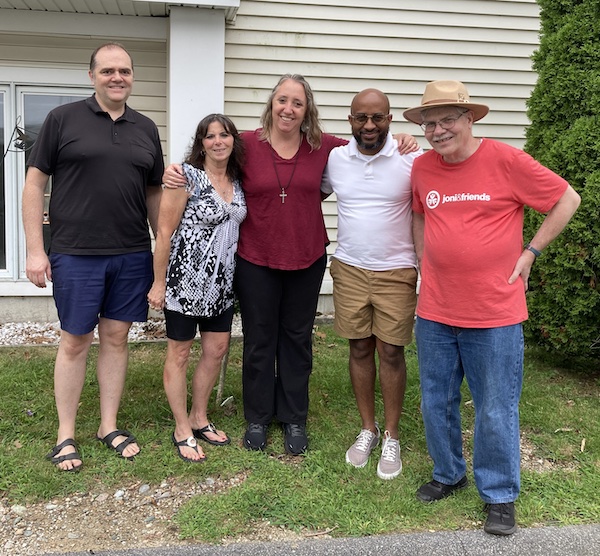 Hello, friends of Alive in Christ,

We recently had an Alive in Christ social gathering! Participants in our support groups got together to hang out, eat food, and encourage one another. This is the first time in our ministry history we've gathered multiple support groups together like this, and the first large gathering we've had since COVID-19. Pictured are five of the eight people who serve on the Alive in Christ ministry leadership team (from left to right): Bryan, Sharon (who's brand new), myself (Brenna), Patrick, and Hugh. In total, over 30 people attended, including some spouses and kids. As we are implored in Hebrews 10:24-25, "And let us consider how we may spur one another on toward love and good deeds, not giving up meeting together, as some are in the habit of doing, but encouraging one another—and all the more as you see the Day approaching." Amen!

I've had the opportunity to speak to several youth groups lately. I love to talk to young people about these topics. I generally share my story with a few basics about identity and God's design for gender and sexuality, and then I take questions. Let me tell you – these young people ask some great questions!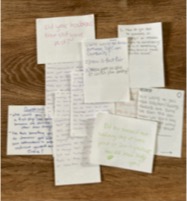 "How were you able to switch your identity?"
"Is your husband Christian? Did he know about your past?"
"Why did God make gay people if the Bible says it's not right?"
"Is it wrong to still have affection/feelings toward the same sex even though you know you don't like them in that way but you find them attractive?"
"Why would there be tension about LGBT and Christianity? How is that fair?"
"There is a sexuality known as asexual/aromantic – would you say this is what Jesus had?"
"What about people who are gay and believe in God?"
"What about people who say, 'I was born this way' and they wouldn't choose to be gay – do you think they will burn in hell?"
"If you still occasionally feel same-sex attraction, wouldn't that just make you bisexual? (I'm not sure if this question is too personal or something.)"
"Was there something you would do whenever you felt the same-sex attraction in order to redirect yourself towards Jesus?"
"What would you recommend as a first step when speaking with someone who identifies as anything other than straight?"

Those are just a few examples of the depth of questions young people have today as it pertains to LGBTQ+ issues. I even got a question about clownfish being able to change their sex – which I had to google at a later time (I've now been told clownfish are sequential hermaphrodites).

Alive in Christ would love to help you address the comments and concerns that young people have. Thankfully, there is still time to register for our "Speaking to Youth" training that will be held in Brockton, MA on September 30th. This training serves to equip leaders, pastors, parents, & educators on how to address the way young people view LGBTQ+ issues, how to offer them a biblical framework for sexuality and gender – as well as address some of these great questions that young people are asking. You can pre-register and find out more information on the Alive in Christ website.

Please pray for the upcoming training as well as the various speaking engagements we have scheduled, including a trip to Vermont. We rely on your prayers and financial support to continue to do the work God has called us to, so thank you for all of your generous support.

To Our Financial Supporters: If you would like to give a gift to the ministry, you can either send a check to us at the address below, or find out other ways to give under the "Support Us" header of our website. All gifts are tax-deductible.