Offering Hope to Those Impacted by Same-sex Attraction & Gender Dysphoria
Vol. 82, September/October 2023
Hello, friends of Alive in Christ! We recently presented one of our newer trainings, "Speaking to Youth about LGBTQ+ Issues from a Biblical Perspective," to a packed house at Brockton Assembly of God. We covered a biblical theology of sexuality and gender, how young people are framing these issues and what is influencing them, how parents can be aware of and manage input, how to respond if someone comes out to you as gay or transgender, and much more. We ended with a question & answer period, where I and my team respond (see Patrick, Sharon, and Kyle pictured).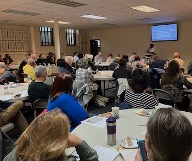 Here are a few comments from attendees:
"I would like to thank Brenna and her team for reminding us that God is a Lover of ALL! Thank you for being vulnerable and sharing your testimony and faithfulness to our relentless God." Sandra
"A lot of what you share is a confirmation for what we have been sensing. Your presentation made it much clearer. Hearing your team share from close personal experience with the issue enriches our understanding for the topic, and we can reach out with more confidence. Your highlighting the internet influence and teenagers' belief tendencies are also very helpful." Missionaries to Asia
"Every church should welcome this training, as nearly everyone is somehow touched by someone in a same-sex attraction situation. The valuable insight and information presented with Christ's love and Scripture gives every believer the tools to minister within the church and the community." Linda Anderson, Women's Ministry and Pastoral Student, Mid-Cape Worship Center – Dennis Port, MA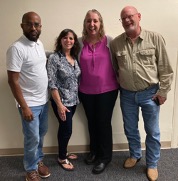 A big shout-out to the ministry leadership team, the 3 pictured with me plus the four others who were not at this training! They help lead support groups, make phone calls to new inquiries, lead sections of these seminars, and generally make my job as ministry executive director much easier.
By the way, Alive in Christ is seeking to hire a paid administrative assistant for 2-3 hours a week. We are looking for a Christian with fluency in Word, PowerPoint and Excel to do some basic research tasks, help with editing, write thank you notes, and answer occasional emails. Contact us for the complete job description!
"I have not stopped giving thanks for you, remembering you in my prayers" (Ephesians 1:16). We at Alive in Christ are eternally grateful for your prayers and support! Truly, we thank God for those who intercede for the leadership, board, advisory council, and ministry participants. Continue to pray for those we serve as well as for more opportunities to share about the love that Jesus has for those who identify as LGBTQ+!
To Our Financial Supporters: If you would like to give a gift to the ministry, you can either send a check to us at the address below, or you can give under the "Support Us" section of our website. All gifts are tax-deductible.
Alive in Christ, 1 Park Street, Boston, MA 02108, (617) 880-9099, http://www.alive-in-christ.net